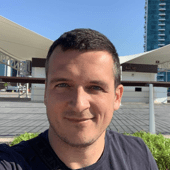 Goran Burazer
CTO – Tech
Hi I'm Goran Burazer (42), based in Montenegro, with Snowfall for 6y+ (since Oct 2015.). Software development enthusiast, in love with clean code and agile processes, experienced in diverse roles. Seeking balance between engineering excellence and business-dictated urgency, simplifying and clarifying along the way.
I'm Snowfalls CTO, which makes me ultimately responsible for technical direction of the company. I am taking some of the bigger technical decisions and am fully involved in selecting and supporting Snowfall's technical talent (engineers). As a problem solver, I'm happy to offer help and guidance in any setting within the company that can benefit from my experience and drive, trying to help us grow with least possible friction.
One of the best things with Snowfall is the opportunity to grow immensely and in a safe way. Over these 6 years, that meant continuously stepping out of my comfort zone and being challenged in various ways, growing my character, patience, persistence and adaptability, and also at times extending the very idea of what's possible to accomplish in a given situation. I've grown so much more while working in Snowfall then ever before in my career and for that I'm very grateful. I also love working at Snowfall, because colleagues are very friendly and supportive, and work has always been engaging and fun. I couldn't imagine giving up some of the cultural traits I've experienced in Snowfall.