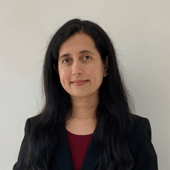 Beena Patel
Scrum Master /Delivery Lead – Delivery & Operation
I am Beena Patel and I am based in Chelmsford. I joined Snowfall in May  2021.

I am a Delivery Lead for one of our top projects. 
I enjoy working in a very collaborative atmosphere in Snowfall, I feel respected and valued. I also like Snowfall's culture which supports learning and development on the job and really rewards hard work. I feel that I'm working with a team of great professionals that I can learn from.
What I love most about my job in Snowfall is the sense of family around our workplace.
Good work-life balance too which provides a great degree of control and freedom within my job.
I would definitely recommend you to join Snowfall because Employee engagement and opportunities for advancement is amazing in Snowfall. Also, everyone in the team shares the same vision and dedicated to the mission.