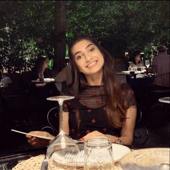 Hera Saqib
UX Designer – Design & User Experience
I'm Hera Saqib, a Senior UX/UI Designer at Snowfall, based in Manchester. My time here has flown by since joining the company almost a year ago. I can without a doubt say that I have enjoyed every moment of working with the positive, hard-working and dedicated team. I soon recognised that the people here have a very open-minded "Sky's the limit" approach to product and technology. 
This is a dream come true for designers like myself that strive to push boundaries. Besides the team, Snowfall have created an innovative remote working system of "igloos and villages" - a fun way to work across projects! What I admire most about Snowfall is the strong culture of trust, responsibility and freedom. 
All in all, a great company to work for with a talented and enthusiastic team of individuals.